London Women's Club Profiles
| | | |
| --- | --- | --- |
| View Club Profiles with all of the latest team and training information. Read about Club needs and find contacts for recruitment and fixtures. | Choose a Women's club: | |
Womens Clubs
Welcome to the London Womens Club Search Page. Use the search on the left to find local womens rugby clubs as follows:
Enter your address.
Choose your preferred club distance.
Choose amateur or professional clubs from drop down menu.*
Click "Find Local Clubs" to find your local mens rugby clubs.
* Given women's rugby status, semi-professional teams are treated as professional for search purposes.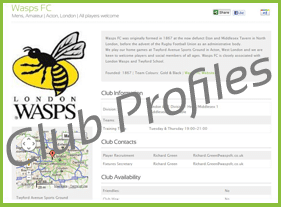 See Club Profiles for updated club information
Search Results
The results page will reveal the following information:
Club Name – click on this to see the club on the map.
Club Address – address of the clubhouse/traning grounds of the club.
Club Profile – click for the full club profile, including all of the latest club information.
Directions – directions from "your address" to the club.
Club Level – whether the club's playing level is amateur or professional.**
** Some professional clubs also have amateur teams, so please see the Club Profile for full details.