London Clubs
Click a category below to find your local rugby clubs and access the most updated club info. in our Club Profiles. Finding club friendlies is also only a click away!
Club Profiles will reveal club location, division, training time, fixtures contacts, clubhouse and pitch hire availability, club needs (incl. players, coaches and referees) and much more!
Find Clubs
Find Fixtures
Zoom in on map to see featured clubs
Looking for a Specific Club?
Insider Information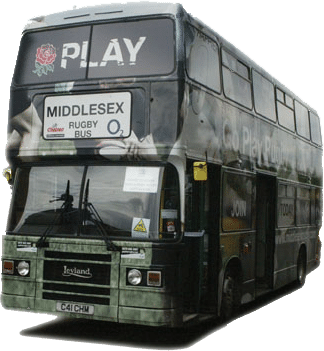 If you are a Middlesex club, you can hire a FREE bus to advertise your club and get you to your fixture. The onboard facilities are geared to promote your club and maximise your recruitment potential. If you live in London but not in Middlesex, do not despair – other clubs can hire the bus at a nominal charge.
When you book the bus, Middlesex Rugby will provide:
● A busdriver to drive the bus to your designated site
● A small library of rugby CDs
● Experienced first aid person with medical kit and CRB clearance
Onboard facilities include:
● Upstairs video and TV theatre with plenty of seating
● Downstairs PA facility with outside speakers and CD player
● Chiller unit for keeping the beer cold
● 13 AMP electrical main to run all your electrical bits and pieces
● Outside power input or onboard generator to keep you going all day
—————————————————————————————————————
How to book the bus: Contact STEVE SMITH, Bus Manager, on 07817 502 797 or email smudgebs@aol.com
---
The FindRugbyNow website will be a great asset for players, coaches and clubs. As a club director, I think that the Club Profiles will be very useful in providing info. to players and fans. I also think that the Local Events Pages will be a great opportunity for clubs to advertise events like Rugby Rocks. I look forward to seeing what else the site will offer the local rugby community.
I think this site will be of great use to our club in helping us find local teams for friendly opposition. I am particularly looking forward to using the Forum and the Fixture Exchange. As a relatively new team any links to other rugby clubs in the area are very much appreciated and I think this site will help us build ties in the community and attract new players.
Community Forum
Browse the forum to find useful topics for every type of rugger: