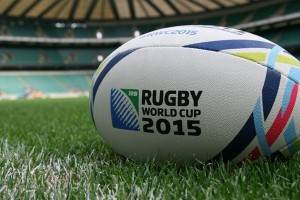 The World Cup starts on 18th September and rugby clubs really need to take advantage of this unique opportunity to bring in more players and volunteers as rugby is front and center on the world stage.
It starts with England delivering a performance and extracting themselves from a very tricky group. Australia, whilst beaten strongly by the All Blacks in the recent Bledisloe Cup game will be looking to bounce straight back with a strong showing, Wales are always up for a game against the English and both Fiji & Uruguay will give powerful challenges albeit in different aspects of the game.
To create a groundswell of interest in the game from those currently not involved three things need to happen.
Coverage
First, the tournament needs good coverage. Whilst the first game kicks off on 18th September (England v Fiji) you could hardly describe the build up as main-stream at the moment. However, we can expect that this coverage will intensify and increase in the coming weeks.
As the tournament is being covered by ITV for free, this allows rugby clubs to screen the matches thereby allowing them to showcase their facilities and engage with people interested in the game.
Attract Volunteers
Second, clubs need to focus on not just attracting young players into sport (although increasing these numbers would be excellent) but also engage with other people too and find those interested in getting involved with the clubs as volunteers.
There are many roles at a rugby club which can attract a variety of individuals with different skill sets and experiences that are needed for off the pitch administration and running of the club.
Bring ex-players back in as coaches or referees, increase the number of volunteers to assist the handful of "over-worked" individuals in roles of club administration, promotion (media & web-based) and sponsorship.
Be Prepared
Third, be prepared for an influx of new keen players. I remember the morning after the 2003 World Cup Final, at training on a cold November morning, being completely blown away by the number of young players who turned up to have a go following the success of that team.
We probably weren't ready for them that day but now club need to be more prepared.
Clubs need to be more pro-active and plan for an increase in interest so that they can take full advantage of the post-World Cup buzz.
Conclusion
The World Cup offered the opportunity for individuals to take part in the "The Pack". This is a group of volunteers, some already at clubs but also others not already involved with rugby clubs, who will be giving their time to assist in the smooth running of each game during the World Cup.
The Pack was massively over-subscribed. This leads me to believe that there are even more people out there who seem to want to be involved in rugby and clubs need to take full advantage of this interest.
Let's hope there will be some joined up thinking which signposts these people to local clubs after the final whistle blows.