Can you imagine playing rugby without a sports bra? No, me neither – but amazingly, that's what women used to do. Until recently, when some medieval "breast-bags"- yes that's the technical term – were found behind a wardrobe in Austria, the bra was believed to be a modern invention, following the demise of the corset.
However, the modern sports bra was not invented until 1977, when a student in Vermont sewed two jock straps together in an effort to support her aching breasts when she went jogging.
This means that the women who played rugby before 1977, and possibly well into the 80s, were playing without what most of us now consider an essential piece of equipment.
Pioneer Lisa Lidahl, who called her 1977 prototype the 'Jogbra', had trouble persuading sports shops in America to sell her product at first.
She recalls asking: 'You sell jockstraps, don't you?'
However the early sports bras did not really cater for anything above a C cup. Renelle Braaten, a Montana hairdresser who set out to rectify this situation in 1988, encountered scepticism that women with large breasts would want to play sport.
Certainly the bras on the market are still not sufficient for all of our needs. An old teammate of mine used to wear three sports bras for matches. On the other end of the scale I remember one girl – her nickname was 'Mountain' – whose twin peaks were barely constrained by the ill-fitting under wired monstrosity she wore for training: indeed it was a case of two become four!
Recent research commissioned by leading British brand, Shock Absorber (est. 1995), concluded that a staggering 68 per cent (8.2 million) of women still do not wear a sports bra while exercising.
I can't imagine many of those are rugby women, but who knows? Berlei ran a poster campaign in 1994 which used a skipping rope to great effect to show the effects of not wearing a bra: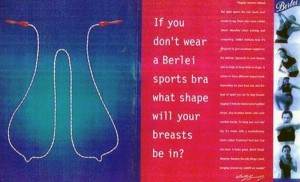 Shock Absorber have successfully recruited a series of well-known sportswomen to endorse their product.
Their first bra was launched by Olympic gold medallist Sally Gunnell, and more recently tennis star Anna Kournikova and champion long-jumper Jade Johnson have promoted them.
I for one have certainly taken Kornikova's message in the 2000 billboard campaign that 'Only the ball should bounce' to heart: whenever I try on a sports bra I jump up and down energetically in the fitting room and observe the effect. This is the only way to tell if it's the one to buy, but it can lead to some funny looks on my way to the cash register!
In many ways the history of the sports bra is a micro-history of feminism. Prior to the jogbra, myths circulated that women shouldn't be in contact sports because they'd hurt their breasts. As attitudes have shifted, selling sports bras has become a big business, with companies investing in research and advertising.
I wonder what role the availability of the sports bra has played in the growth of popularity of women's rugby?
---
By: Miranda Kaufmann