Your inside-look into the life of a professional rugby player

Imagine what it would be like:
to have access to professional fitness, training and nutrition advice
to find out how professional players prepare for matches
to have an inside-look at life of a professional off the pitch
Well, now is your chance.
FindRugbyNow has teamed up with Palepoi Nonu of the Rotherham Titans to offer you the opportunity to have all of your questions answered in our "Ask a Pro" monthly blog.
Have a look at what Rugby World and Titans News wrote about Pale:
---
Rotherham Titans have captured New Zealander Palepoi Nonu, as Andre Bester's recruitment drive for the new season gathers momentum.
Pale, as he prefers to be called, arrives from National Leaugue One side Launceston. Having previously had spells at Mounts Bay and St Mary's College in Dublin, the 32-year-old, whose younger brother Ma'a plays for the All Blacks, will add power and experience to Rotherham's back line.
But for visa problems Nonu would have been part of Exeter Chiefs Championship winning side during the 2009-10 campaign. After a three week trial Nonu was offered a contract, but a visa delay meant Nonu missed the cut-off point for registration.
Head coach Andre Bester is delighted to have Pale on board and commented, "I've seen him and he has been a stand-out player. He smashed people. "He's a very good ball carrier and off-loader and will be just what we want, bringing a lot of experience to our midfield. We are very excited about Pale. He'll be a key man and is an exceptional talent.""
"I´m working and training very hard and I'm looking to make a contribution to what Rotherham is trying to achieve," Pale said.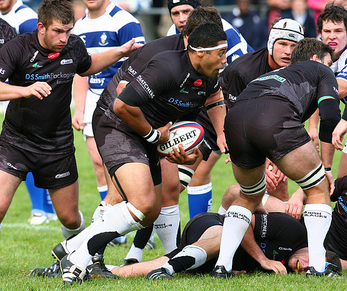 Preferring to play inside centre, Nonu took to playing rugby at a very early age. "In New Zealand there is pretty much only one sport and my dad started me playing rugby when I was four. I have four brothers and my dad had us all playing in the back yard."
Oriental-Rongotai, a small club in Wellington, was where Nonu started out and stayed there until he was 25. Upon his arrival in the UK he joined Cornish-based side Mounts Bay for two seasons.
Dublin was his next destination and proved to be a very enjoyable part of his career which saw him have spells with Newbridge, St. Mary's and Suttonians.
But it was time to return, Nonu explains, "My missus is from Cornwall and she wanted to go back home, so I joined Launceston. Before I joined Launceston though, I had a trial with Exeter and they offered me a contract. So I had to go back to New Zealand to sort out my visa. Unfortunately it took 6 months to sort out and Exeter then reached the Premiership, so I missed out on that opportunity."
However an unexpected opportunity arose in how he arrived at Rotherham, Nonu said, "Andre was watching some DVD footage of a prop at Launceston and spotted me. Andre asked the prop to get me to send some footage of me to him and it went from there."
Nonu has settled in well and is pleased with how things are going at the moment, he said, "Im enjoying it here, the areas really nice and the people have been really helpful. It's been good fun – it feels like the squad has been together longer than they really have. We are tight already and have a great spirit, we´re all looking forward to what we hope will be a successful season."
We are very excited to welcome Pale to the FindRugbyNow team. Please email him questions to answer at info@findrugbynow.com with the subject "Ask Pale".