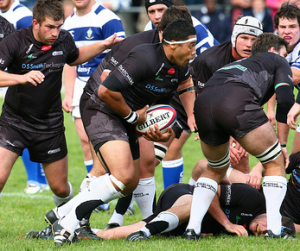 Preparations for a game starts on the Monday morning with training, a video analysis of the previous game and an analysis of the opposition.
Training is focussed on the upcoming opposition as well as on making improvements following lessons learned from the previous game.
Below I will take you through my usual 24 hours before a match day.
Friday
Morning: Team Run & Captain's Run
This is a team session where the captain dictates game scenarios, different parts of field play and game tactics. It's almost like a dress rehearsal and lasts about 40-60 minutes.
Afternoon: Relaxation
I usually go to coffee and/or the movies with some of the boys just to help us chill out and relax. It's important to have a routine outside of rugby to help relax the body and mind.
Evening: Pre-Match Day Meal
My regular pre-Match Day meal of choice consists of steak, rice, and broccoli. It's good to have a meal high in carbs and some protein, and drink lots of fluids. I usually just chill on the sofa watching tv – nothing strenuous!
Saturday (Match Day!)
Morning: Prep & Breakfast
I wake up quite early on match days (normally to watch Super 15 rugby). This helps me to start focussing on the game ahead. I tend to try and watch the people who play in the same position as me to see what they do well, and what I can do to improve my game.
Breakfast is porridge and honey, which is what I have every day anyway. I always take a long hot shower, exfoliate and have a nice shave (my mum always said if you look good, you play good)! This saying was mainly to ensure I kept my socks pulled up and jersey tucked in, but I have adapted it!
My missus gives me a deep tissue massage and helps me stretch out. This helps me loosen up my body and gets rid of any knots and tightness I may have. I usually drink 2 litres of water mixed with rehydration salts before I leave for the club, which helps replenish salts in the body and keeps hydration levels high.
Arrival at the Club
We meet 2 hours before kickoff, and as we make our way into the Club, the stewards and keen supporters are already there. They give us a bit of encouragement and well wishes, which always gives me a little boost of confidence. This really helps with motivation!
In the Changing rooms
I have a homemade protein shake, which consists of protein powder, oats, granola, banana, etc. (pre-match snack).
There are usually a lot of sweets flying around as boys like to load up on the sugar. The doctor straps me up, and I like to get changed early and start my personal warm up (whilst listening to some slow jams!). I've been doing the same warm up since I was in college. Some boys like to psyche themselves with loud music……I prefer ballads. We have key words plastered all over the walls, as well as motivational quotes, which are updated weekly.
Hour before Kickoff
The referee and assistants do a boot check and talk to the captain and front rows. Then we have a team meeting with the coach, final video analysis, tactical re-cap, and a motivational speech. By this time my blood is pumping and I am raring to get out there.
Team Warm Up
We go straight into warm up drills, and then split into team units (backs and forwards) to work on our moves, etc. We hit the pads, which gets the body prepared for the upcoming collisions. We finish our warm up with a lap of the field passing the supporter's stand. This also gets the blood pumping as the Rotherham fans are one of the best, and loudest!
We have few minutes of personal time and I spend this time wishing teammates the best of luck and encouragement and write down my goals for the game, e.g. tackle counts and hit ups, which is specific to my role in the team. This keeps me focussed during the match and ensures I am able to monitor my role in the team and how well I am doing my job.
The last few minutes before kickoff is the captain's speech and then…..GAME TIME.
Apart from the team activities match preparation is an individual process. As people we are individual and all different, so this also applies as rugby players. Something that works for one player may not work for another. It is important that you find what works for you or adopt a personal regime to suit you because rugby is not only a physical game it is most definitely a mental one!
Superstitions
Rugby players are a superstitious and OCD bunch. Here are a few of my own rituals and some of those belonging to my friends that also play professional rugby:
My Superstitions
• I wear the same underwear to every game, which usually last a few seasons! I have had my current pair for 4 seasons now but it's on the last legs and I'm having to wear another pair under them (lol)
Other players
• Nap for 30 minutes before the warm-up in the changing rooms (don't know how he does it!)
• Slaps left shoulder twice, right shoulder three times then sprints down in the changing room
• Team runs out, he runs to the 22 line, kneels and prays
Send through any funny superstitions that you may have, or any questions or comments in response to this post to info@findrugbynow.com with "Ask Pale" in the subject.
Watch Pale's 2010 – 2011 Highlights:
PALE'S TOP RUGBY TIP OF THE MONTH
Analyse and watch a favourite player that plays your position continually and learn from what they do well (Youtube is your friend!)