One bright and sunny Saturday afternoon last month found me at Oval Park just outside Leicester. This is the home of Oadby Wyggestonian RFC with a lovely, well-appointed clubhouse and a comforting, welcoming atmosphere. The ground itself is one of the best grassroots pitches I have seen but that is not surprising since Oval Park is also the training ground for the Tigers!
I was there for the 2s league match against Vipers 2s on one of the rare occasions when I was just a spectator.
It was a home win of 49-0 but the score does not really do justice to the game. There was some great play from both ends of the ground and as usual, exhibitions of great sportsmanship. On the whole the game was played in great spirit and exciting to watch!
Unfortunately, the match was stopped with about ten minutes to go as the 21 year old home Hooker fell to the ground at a stomach churning angle. From where I stood, I was concerned that the ankle may have either dislocated or there was a fracture, which could lead to more serious implications and complications.
As you can imagine, I was relieved to find the patient suffering from a complete patella dislocation of the right leg. This is when the patella [knee cap], which should be located at the front of the knee has pinged out of its housing [trochlear groove] and presently residing 90 degrees to the outside of the knee.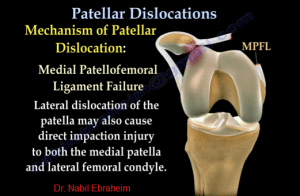 Although I was relieved, I am not sure it was too much of a consolation for the Hooker who was experiencing considerable pain. For first time incidents, the ligaments that hold the patella in place are torn and I think it is quite safe to presume that the medial patellofemoral ligament ("MPFL"), which holds the patella to the inside of the knee, was in jeopardy!

Symptoms
Severe pain, tenderness
Immediate swelling
The patella is visibly displaced, usually to the outside of the knee joint
A feeling that your weight cannot be supported
Inability to straighten your leg
Very Serious Symptoms
Loss of a pulse below the knee
Loss of feeling or movement below the knee
Treatment
Seek medical assistance immediately. A doctor can manually move the kneecap back into position when the leg is straightened. X-rays will be required to ascertain any loose [osteochondral] fragments and any other structural damage.
Other than to immobilising the knee, do not be tempted to treat yourself.
Placing ice on the injured area may help with some pain control and to decrease some of the swelling. However, although the Sun was bright it had been quite cold and the ground was wet. As I knelt on the grass next to the Hooker, I felt an icy shaft shoot up both my thighs so my main concern was hypothermia. Swelling was not huge so I did not call for ice in this instance.
Instead, as the Hooker was well in tune with his pain and was happy to go with it, we used breathing techniques to control pain. Although this does not kill the pain, it helps enormously to manage it.
If conservative treatment has been opted for, seek a therapist with good strength and conditioning qualifications who will prescribe a programme to strengthen the core whilst correcting any offending pathomechanics or pathoanatomy that can be done so without surgery.
Although not easy, return to play is possible with hard work and maybe the use of a knee brace.
Prevention
There are contributing factors that make a player more susceptible to patella dislocation; some you can do something about, some will correct with age and some I am afraid will need a knee support:
• muscle weakness (especially the VMO)
• tight lateral (outer) patella retinaculum
• loose medial (inner) patella retinaculum
• poor lower limb biomechanics (flat feet, increase Q angle)
• genu valgum ('knock knees')
• patella alta (abnormally high patella in relation to the thigh bone)
• femoral anteversion (where the thigh bones turn inward)
• shallow trochlear groove
• general hypermobility
The best start is to work on the ABCs of sport; Agility, Balance, Co-ordination and speed. I am a great fan of SAQ and as we are in Leicester, I could not do better than this 'retro' explanation…
A Merry Christmas to all who play at Oval Park and all FRN readers!
Liz Ward