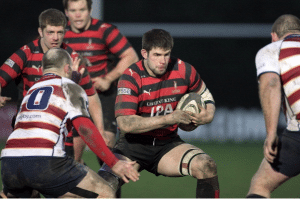 With the announcement of our new venue for this year's FRN 7s Tournament, we thought it was only appropriate that the club of the month would be the legendary rugby club where it will be held – Blackheath RFC.
Blackheath have had a great start to their season and the men's 1st XV team is currently placed mid way in the RFU National – SSE National League 1.
Prominent victories over the season so far have been against the likes of Esher, Cambridge and Richmond.
The success of the club has been passed down from century to century and began in 1823, when William Webb-Ellis picked up the ball and ran with it "with a fine disregard for the rules" during a game at Rugby School and in doing so effectively founded the "carrying" game.
Eight years later, the Blackheath Proprietary School opened just south of the railway station. The school adopted the new game, and was soon playing the game of Rugby on the heath.
Teams
The men's teams range from a successful 1st XV playing at National level to 4th and 5th XVs playing at more modest, social levels which stress the enjoyment and camaraderie of the sport.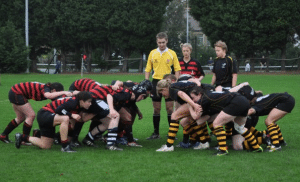 The women's team, who are equally as successful, are currently top of Championship South East 2 and hopeful for promotion into Championship South 1.
The section offers serious rugby with coaching from ex-England captain Maxine Edwards but still managing great after game socialising.
Plans are afoot to create a second team for new players and those looking for a more social game.
Within the Minis, (U7-U12), under the leadership of Tim Brindle, Community Liaison Officer, and as well as being a local school governor, has been talking to Headmasters and PE teachers in the local community about Blackheath FC.
They have also put up flyers in to schools promoting Blackheath as a place to come and try Mini and Junior rugby.
The Juniors (U13-U18) are a thriving and successful part of Blackheath Rugby, with approx 150 players. There is a good spread of County players across all age groups, and indeed some go further into National and Divisional squads. They have a good history of players being selected for the Saracens Academy.
Ladies Day
An exciting event which is coming to Blackheath on 29th March is Ladies Day which involves entertainment, an auction and an afternoon filled with Rugby in aid of Breast Cancer.
1st team captain Tom Bason said:
"It was first organised by the 1st Team squad back in 2010, whereby we wanted to get some fresh faces along to the game, raise some money for both charity and the 1st team squad."
He added: "Ladies Days are really popular at Australian clubs, as a number of them have played out there."
"The Ladies get a sectioned off area with entertainment, food and drink, the team plays in a one-off pink kit for the day which is auctioned off in the evening. In 2010, at the first event we sold 255 tickets, last year we sold 520, this year we are hoping to go above that and provide even more entertainment including a couple of live bands and a cocktail bar amongst others. It really is a fun day for anyone in and around the local area."
For more information about Ladies Day, visit http://www.pitchero.com/clubs/blackheath/events/ladies-day-2013-101061.html.