Now that 15s season is over and the summer months have arrived, there are a number of rugby 7s tournaments being held throughout the country – and plenty of chances for you to get involved as both a player and spectator!
Rugby 7s tournaments greatly vary in size and entertainment and can feature as many as 300 or as few as 10 rugby teams.
Some competitions form a part of a larger three day festival weekend while smaller club tournaments tend to take place over the course of one day. Competitions are offered to men's and women's social, open and elite teams and some tournaments also cater for vets.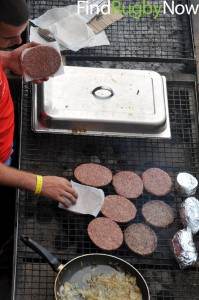 Camping is often offered for weekend tournaments and alcohol seems to play a much larger role in the larger weekend events (partially due to the fact that tournament sponsors are often alcohol companies like Kopparberg and Carlsberg).
Smaller tournaments tend to include a bar and bbq option for attendees, whilst larger tournaments now offer entertainment like bike shows, parachuting displays, photo booths, hot tubs on the pitch and free goodies.
One thing is for sure, some tournaments have really benefitted from linking with companies and brands that have given them the funds to expand and offer more to players and spectators.
A new trend for rugby 7s festivals is to include other competitions like netball, lacrosse or cheerleading (or dodgeball in the case of Bournemouth 7s). This often equalizes the number of men and women at the festival and also provides a good additional income for the festival organisers.
In the last few years there has also been a trend to vary up the tournaments and offer beach rugby 7s. Recently we have seen one such attempt to hold a beach rugby 7s tournament in the middle of Covent Garden in London.
There has also been an increase in the attempts to increase participation by offering touch rugby and mixed rugby options.
International teams are also becoming increasingly common at rugby 7s tournaments with sides from France, Norway, Netherlands and others regularly using the opportunity to build on their international experience, win trophies and increase their profile in the rugby community. We believe this trend will continue to grow in the run up to the Olympics.
While rugby 7s tournaments are clearly about playing and enjoying rugby, many people are drawn to these tournaments come for the social atmosphere and what Chris Cracknell refers to as "the love of the day out".
Even if you are a 15s player through and through, we highly encourage you to come check out a rugby 7s tournament to see what it is all about.
One thing is for sure, when the weather is right, small shorts, crazy fancy dress and plenty of banter is normally on show when the atmosphere is right.
Tournament Dates
Below are a number of the tournaments that take place each year.
Leeds 7s: 3-5 May 2013
Glasgow 7s: 3-5 May 2013
Manchester 7s: 17-19 May
Bournemouth 7s: 25-26 May
Rugby Rocks London 7s: 1-2 June
Milton Keynes 7s: 22 June
Find Rugby Now 7s: 6 July
East London 7s: 20 July
Halifax 7s: 27 July
Southwold Beach 7s: 4 July
Harpenden 7s: 25 August
Remember it is not too late to sign up for one of the many rugby 7's tournament with your team or just come for "the love of the day out"!
Find Rugby Now is hosting its own tournament on 6 July 2013 in London at Blackheath Rugby Club and we would love for you to join us as either a spectator or a player.
By ThomasFeaheny
@ThomasFeaheny