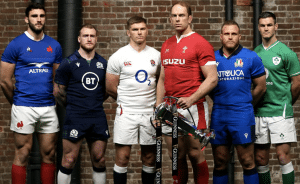 This past weekend provided some exciting and surprising matches in round 1 of the Six Nations 2022.
The Scotland v England match arguably provided the biggest thrill of the weekend with a 3 point difference and some exciting running rugby with an action packed second half.
Read below about what we can expect from the Six Nations 2022 sides going forward along with some takeaways from the matches for coaches and players.
Ireland 27 v Wales 7
At times Ireland looked as though they had more players on the field than Wales. They certainly had more players at every tackle contest. In attack and defence, they swarmed from one piece of action to the next, like a set of waves.
Riding the wave was scrum half Gibson-Park – always close to the ball carrier. He is the perfect scrum half for a team that wants to play a fast skilful power game because he gets the ball away so quickly.
Ireland are a multi-skilled team – they attack in clusters, transferring the ball with soft hands before releasing to the circling player at the back. These clusters suck defenders in and create some space out wide.
Due to this successful strategy, a much-depleted Wales were seldom in the game.
Ireland have carried on from the defeat of New Zealand. They have depth and they are enjoying their playing style (and they are fit enough to play it). The blend is unaffected by the arrival of replacements.
Wales have an instinct for attack, but Alun Wyn-Jones is a spiritual leader they can't do without. If you don't go forward up-front and tie in the Irish back five forwards you succumb to the swarm, but this time in defence.
Scotland 20 v England 17
England had both territory and possession, but sadly lacked penetration against Scotland. Itoje and Steward had poor first halves with no presence, and in Itoje 's case, some absence from the fight.
English backs still prefer to grubber kick forward, rather than make the soft pass in confined spaces. At least two scoring opportunities were lost when kicks to touch were taken in open play. Sure, the commentators waxed lyrical about the ground gained and the English supporters cheered, but the ball was given away. Passes are preferred even in narrow attacking channels.
Scotland are a rejuvenated squad. They expected to win this game. Winning against England and France last season has cemented their resolve. Despite the pressure England exerted they came from behind to win.
Russell is the maestro at the opera. At times he looks too casual, but his mind is sharp, and he takes note of opportunities and keeps the defence guessing. He has X-factor qualities, and his unpredictability is a real weapon. If you play in Scotland's backline, always expect the unexpected.
Talking of unexpected…the England line-out coach may need medication after Joe Marler's line-out throw late in the game.
Where do England go from here? Eddie says England must win in Italy next week. A poor performance at the Stadio Olimpico will set the tongues wagging again – probably at the highest level.
France 37 v Italy 10
Simple errors, momentary lapses in concentration added to naivety through lack of experience cost Italy. BUT they have continued to improve after a strong performance against the All Blacks.
• The second player at the tackle got over the ball quickly and effectively;
• The ball carrier had close support going into contact;
• There was line speed close to the ruck and driving contact was impressive;
• The Work rate off the ball frustrated a French attack that lacked purpose; and
• In Garbisi they have a 10 who can construct an attack.
The green shoots of improvement are there for all to see. Winning a game is not out of the question and Eddie Jones will feel the pressure this week.
France flattered to deceive. They have the depth and class but need the sun on their back. They benefited from Italian errors.
As ever with the French there is a temptation to exaggerate mediocrity. We may know a little bit more after next weeks game against Ireland in Paris for the next round of Six Nations 2022.
Mike Penistone
www.energy-travel.com (USE CODE "FRN22" for a 10% DISCOUNT)
www.rugbycoachingconsultancy.com
Coaching thought: "Players want action and involvement. Keep your instruction to a minimum."