In this week of matches in the Six Nations, the Italian Under 20s made history with a formula one performance led by their formidable captain, Giacomo Ferrari.
However, Italy seniors failed to to get on the scoreboard against England, which has given England some well needed confidence moving to next week's match at Twickenham against Wales, which will be a far more ferocious affair.
The coaches of Scotland and Ireland will have dwelled long into the night over…how and why did we lose that game?
U20s: Italy 6 vs England 0
The aptly named Italian Under 20s captain, Giacomo Ferrari, will surely one day captain the senior national side.
When questioned about the importance of Italy's first ever win over England 6-0, he spoke with great pride, passion, and accuracy.
This was a group effort – he applauded everyone involved in the preparation of this historic performance. When a player gives you passion and performance, he can't be ignored.
In the 38th minute, after ferociously defending their line for 3 minutes, Italy earned a scrum 5 meters out in front of their posts. The ball was fed, and England's scrum destroyed. This was a scrum of passion, desire, and most importantly correct technique.
A video clip should be sent to every Italian coach and player who is over 16 years of age.
Pre-pandemic I had the privilege of attending Italian Under 20s coaching and preparation sessions. I was hugely impressed as I have been over the last 15 years. I have coached and watched many club sessions across all age groups in Italy. Give me passion and pride over structure and statistics every day of the week. This win was no fluke.
It is not by accident that the former User 20s Italian forwards coach is now working with the senior side. Pathways are not just about players!
Representative preparation is about content, and the Italian coaches know that.
Wales 20 vs.Scotland 17 and France 30 vs Ireland 24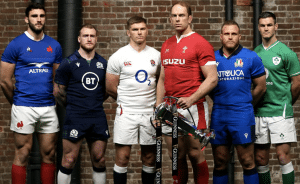 The coaches of Scotland and Ireland will have dwelled long into the night over…how and why did we lose that game?
The bounce back from defeat often results in a win.
Wales responded to savage criticism after their huge defeat to Ireland. The public want wins not medical reports on injured and missing players. Wales responded and played with greater intensity. Line speed in defence and ruck speed in attack raised the noise level in the stadium and the players responded.
Attacking ruck speed and defensive line speed, key areas for all sides to consider.
If the defensive side do not commit to the ruck and their defensive shape stays in place, the attacking side need something else to happen close to the tackle, to concertina in defenders. Winning quick ball and moving it wide does not necessarily create space.
• Quick ball followed by a quick pick and go works.
• Quick ball followed by a quick pick and driving maul works.
Then the many attack variations can be used (previously practised plays).
Both Ireland and Scotland fly halves found it difficult to deal with the pressure. The answer for the expert 10's is to instinctively dip their shoulder and accelerate into the dark spaces! Carberry and Russell are top players but neither made the tough break under intense pressure. On the front foot they are world class, but…
France using huge mobile runners can get that second effort off quick ball at the ruck.
The Scotland, Wales game, after an exnihilating start descended into an arm wrestle. A try to each a meagre return!
Jaminet and Biggar both brought their X factor to the arena and took advantage of poor discipline to kick penalties, conversions and drop goals.
Discipline will be a serious discussion topic over the following week as will some laws of the game. Some of the more obvious laws are not being adhered to especially the 10-meter law from a kick.
Italy 0 vs. England 33
England still seem to be experimenting. Six changes from the loss to Scotland and Itoje playing at number 6.
Something is missing in the England squad. I think it is character up-front!
Randall was lively at 9 but occasionally took steps before passing. I still think we play too deep when we could be playing flat to the line in attack. Two tries in the second half, a poor return for heaps of possession. More will be known after the next game against Wales at Twickenham. A far more ferocious affair for sure.
Despite inspiration from the U20s performance, Italy continued from where they left off last week. Naïve defending out wide, erratic passing from 9, simple errors, dropped catches and missed tackles.
The Italian coaches will be assessing what effect the opening games has had on the players. The week off will be of benefit, but the lack of depth limits selection options.
New players must come in if current players are not learning from experience.
The coaches will be fully aware of the issues.
Mike Penistone
www.energy-travel.com
www.rugbycoachingconsultancy.com
Coaches thought: "How much passion is in your dressing room? How much passion is in you?"