Those of us who have experienced losing a World Cup Final (for me it was the Student Rugby League final to Australia at Wigan), can vouch for the agony you go through as a coach. You wrestle with every aspect of your team's preparation. Should you have done this or that? Did you get selection right? Did you introduce the substitutes at the right time? What if's, haunt you for days, weeks, and months.
Saturday's final result was New Zealand 34 v England 31.
Simon Middleton should be lauded for his contribution to England's women's rugby, but he would swap it all for the win. People face to face will be very complimentary. Emails will be received, text messages, phone calls, all full of praise, and you must go through it.
However, as Simon said, "You never get over it."
For the players, the changing room welcomes you, but it doesn't make the pain go away. Better to let the tears flow because you are in a raging sea of reality, the reality of failure and loss.
The organisers of Women's rugby will delight in the global sporting recognition of a product that has captivated even the most stubborn of men.
Both New Zealand and England can play the complete game, with driving power and sublime back play. Rugby Union is a many faceted game and you can play it the way that suits you best. Prior to the sending off, both sides played with width and close quarter driving play. The back play was productive and exquisitely executed, especially moving the ball left to right.
Then the clock ticked to 18 minutes…red card.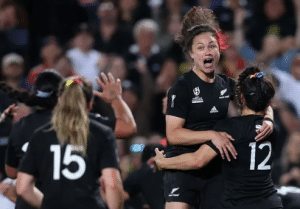 Now it was time for plan B, C, D, E, F…and some individual brilliance.
At the halfway mark the scores were close enough to suggest a drama, but New Zealand's appointment of Wayne Smith proved crucial. New Zealand drove the ball forward for two phases then moved it wide at the start of the second stanza. Plan B implemented. The girls had obviously listened to Wayne.
England's fitness held but the spaces to defend widened and England desperately needed to get the ball, keep it tight, gather round it and keep going forward.
This was becoming a back to the wall effort by England, something historically we can do – it's in the English DNA. The red card had forced England down a one-way street, a street they knew well but it was now their only weapon; get possession and drive forward from anywhere on the field.
Then the drama ensured.
Take the penalty kick and head for extra time or kick to touch and drive over for a winning score. There were two considerations miss the kick and lose the line out. The kick wasn't a gimmie, the lineout almost certainly was.
And you all know the outcome!
It will be little consolation to know that you have contributed to a female, play rugby explosion, but you have.
A women's rugby tsunami is approaching England, and nothing will stop it.
We will be eternally grateful to the current World Cup 2021 squad for the pleasure they have given us, but it will still not make the pain go away.
Mike Penistone
www.rugbycoachingconsultancy.com.
Coaching thought: "If you are an instinct person, then stick with it, don't look to change."