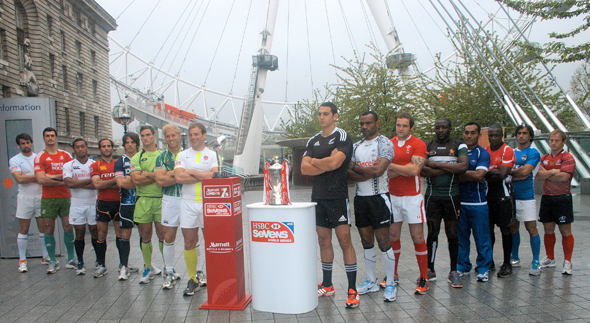 Wednesday saw an impressive assembly of coaches and captains from sixteen countries gather at the London Eye and County Hall Marriott to celebrate the launch of the Marriott London Sevens Tournament at Twickenham, the final event in the HSBC Sevens World Series.
FindRugbyNow joined members of the media partaking in a very unique broadcast and interview opportunity aboard the London Eye, which was followed by a press conference and 1-1 interviews.
One message remained clear throughout the event – we are in for a very exciting weekend at Twickenham and a promising future for international rugby sevens.
RFU Professional Rugby Director Rob Andrew kicked-off the press conference by highlighting the importance of the Marriott London Sevens to the growing prestige of rugby sevens.
"We know the action is going to be outstanding [from] both the Men's and the Women's [sides], and we're absolutely delighted to have not only the Men's…but also a Women's event at Twickenham for the first time."
Women's Captain, Michaela Staniford, said:
"There's a lot of excitement, a lot of good feeling. We've been having great training sessions [and] it will be very exciting to see what we can produce at the weekend."
The women have something to be excited about coming off the back of a Hong Kong win where they beat out the World Champions, Australia, in the last two minutes of the game to win the IRB Sevens Challenge Cup.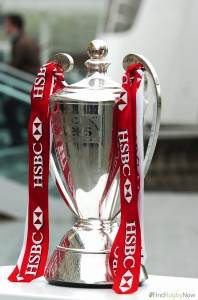 The final leg of the Series has grown significantly in attendance in the last few years and over 90,000 tickets have already been pre-sold for this weekend's final.
It would seem that this weekend's pre-Olympic excitement in London is a taster of what's to come in four years' time, when rugby sevens will make its first appearance in the Rio Olympics.
"It's a fantastic festival atmosphere here," noted Beth Coalter, IRB Sevens Series Director. "The competition on the pitch just gets better and better."
Statistically speaking, rugby sevens has grown tremendously for a relatively young sport. It is estimated that approximately 150 countries are watching the Series, with an increased viewership of 25% in the last year alone. The final leg of the series will have 18 broadcasters covering the matches live.
More eyes surely means more pressure, but according to England Head Coach Ben Ryan, the event is an exciting opportunity to preview England's fresh talent and show the fans what the teams can do.
"I think our chances this weekend are pretty good," Ryan said, "[we have] good inertia, good momentum going into London and it's our home ground…we're keen to put on a show."
"We've got some very talented players on our squad, some of which have come from university, junior clubs and academies. Tom Mitchell's a great example…he's never played a game of senior rugby in his life."
Ryan is pleased with the standard of players on the men's squad and with the fact that the team is going to have consistency going into the next season.
"We've got [the] top two [players] in the world [for] try-scoring and one that has been shortlisted for player of the year. For the first time ever going into our last tournament, we know that the squad that we've got…[is] on track to finish here and [play] on. So, it's exciting in that respect – we're looking to go out on a high and use this as a bit of a preseason."
Ryan is already looking toward the future. "A lot of our players are contracted until the Rugby World Cup and the Commonwealth Games in Glasgow. So, as a union, for England, that's where our sights are set."
England Men's Sevens might only be in their second year with 12 full-time sevens players, and although some of the younger players might be far from the "finished product", Ryan takes pride in cultivating a squad that will eventually be title contenders.
"We intend to push [the competition] a lot harder in the future, and I look forward to that," Ryan said.
When asked about his side's performance throughout the Series, Ryan replied, "It's taking time…but it's only going to get better. As a coach, I'm very proud of their efforts. They've worked hard this year and I'd like to see them get reward for that in our last tournament."
According to Barry Maddocks, the England Women's Rugby Sevens Coach, Ryan is keen to create a unified coaching group and work with the women's team in the future.
"I can only see that relationship going forward and improving quite considerably," Maddocks said.
The women's team also has a lot to look forward to after the London Sevens since they are set to compete at the Grand Prix in Amsterdam and then the World Cup Qualifiers in Moscow in the summer.



Come this weekend at Twickenham, you can expect some great rugby from all sixteen countries and an England squad hungry to give their home crowd a taste of what is to come for sevens in the next few years.
Check out a video from the event here:


FindRugbyNow has two sets of tickets for the weekend to give away to some lucky fans. Please tweet us @findrugbynow or find us on facebook and let us know if you would like to go!
---
Reporting for FindRugbyNow: Frances Nguyen
Photography for FindRugbyNow: Lee Crabb of ScrumPix Photography