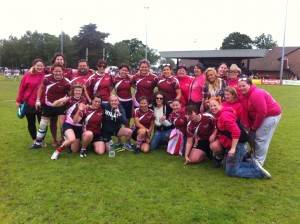 The creation of Andrea's Angels at Sutton and Epsom RFC was prompted by the sudden and unexpected death of Andrea Hinton, past Ladies XV Captain and nucleus to the Club's Socials and Events team, on 12th February 2009. Unknown to everyone, including herself, Andrea had been battling Leukemia, following a period of illness.
Losing someone so close to many of the club's members and someone who was still heavily involved in much of the events, came as a huge shock to everyone who knew her. A bright enthusiastic smile and character that will be sorely missed. Saturday 20th February 2010 saw a spectacular day of rugby held at Rugby Lane in memory of one of the club's greatest ambassadors and the creation of a Team of Ladies XV past and present players, playing under the name of Andrea's Angels in a charity match.
Andrea's Angels have since grown to incorporate not only Sutton and Epsom Ladies XV, past and present players, but in charity games, players from across the South of England have joined us to honour her name, such as Richmond Ladies, Wasps Ladies and Old Redcliffians, many of whom never had the privilege to meet Andrea herself, but understand the importance of remembering a lost friend.
Katrina Austen, current full back for Sutton and Epsom RFC Ladies has been the driving force in the creation of the Andrea's Angels Sevens Squad over the last 2 years and the success at Bournemouth Sevens has definitely become the icing on the cake for the squad. A successful series of wins saw the Angels cruise through their group stages in the Beer Cup this summer. Their win against Ellingham and Ringwood in the final of the Beer Cup this June, in the closing seconds to a dramatic game which finished 20-17 will not be forgotten.
Andrea's Angels have been busy in their fundraising efforts in her memory also, for Breast Cancer Care; a charity she highly respected and supported for many years with fundraising ideas of her own. The majority of fundraising has been done through the promotion of Andrea's Angels memorial polo shirts sponsored by Surrey based 'On-The-Pitch-Clothing' but the squad has now expanded in size and has been fortunate enough to promote her cause through the new pink and red playing shirts provided by Ffigar in Aberystwyth, Wales. You will be able to see the fundraising page printed across the back of their shirts for any donations to be given, outside of their other fundraising projects which have now raised over £2,000. (www.justgiving.com/andreasangels)
Although everyone at the club would admit, organising and holding memorial events for a close friend is never something anyone wants to contemplate. The success and atmosphere that Andrea's Angels has produced through sponsored events and in particular becoming Bournemouth 7s Champions only 3 years after her death, really proved how much of a close community within Ladies Rugby, these players can create and how willing and eager everyone was to pull together, regardless of which club they play for. True Rugby Club spirit in its highest form.
Rachel Corrigan
Sutton and Epsom RFC Ladies XV and Club Captain