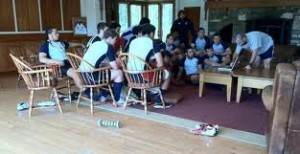 This month I wanted to focus my blog on the (quite often delicate) balancing act between practical nutrition and maintaining a 'happy' athlete. In my experience, a happy athlete = better performance.
As a Performance Nutritionist, you have many aspects to think about other than athletic preparation. You also have to consider an athlete's non-sporting life in order to implement an effective nutritional strategy. This includes training routines, lifestyle away from training, cooking/food preparation knowledge, living arrangements and family life (to name but a few!). This strategy has to fit as seamlessly as possible in to the athlete's life to maximise their training requirements whilst causing as minimal disruption as possible to their home life/performance.
So how do you apply such strategies into an athlete's lifestyle?
Athlete 'Buy In'
Without doubt, this is the most important aspect of any nutritional strategy. If the athlete doesn't 'believe' or 'buy in' to what you are trying to achieve working alongside them, then you've already lost and the strategy will fail. My personal approach is to sit down and explain in simple terms what we are looking to achieve: "we are at A and need to get to B; we will achieve this by X, Y, Z".
I have the athletes I work with under no illusion – I spell it out that (where applicable) that they will have to make certain nutritional sacrifices in order to achieve peak performance.
In general, explaining that it will (hopefully) improve performance, for most athletes, is the only motivation they need to implement such a strategy.
Small Changes = Big Change
Now this may seem pretty self-explanatory, but what I (or you) may view as a small change, an athlete might view as life-altering. For example, if an athlete is repeatedly dehydrated which is affecting performance, simply saying 'aim to drink 2L of water a day' (again, generally speaking) may not be immediately achievable and therefore a suitable strategy should be worked on gradually. For instance, in this situation, perhaps introducing an electrolyte supplement for ultimate hydration and mineral replenishment on the go may be a solution.
Every athlete is different in their circumstances and should be treated as such.
The small changes that we may ask an athlete to make, eventually lead to one big change. Ultimately, the goal is to improve performance. You can't expect that to happen overnight, so you shouldn't expect the same from a nutritional strategy.
Family Support
Whether you are a male or female player, you have partners and/or family supporting you when you train or play. GET THEM INVOLVED! If your partner or your mum/dad cooks two out seven of your evening meals per week or does your weekly food shop, then a well-designed strategy will look to highlight the nutrition approach being implemented with them and get their 'buy in' as well.
Implementing a strong support network around an athlete has shown to provide better performance.
And just to clarify, this does NOT mean your partner or family become a general dog's body to do your shopping and cooking!
Give the Athlete Some 'Downtime'
Let's relate this to rugby – rugby is a physically and mentally demanding sport, and as such, players do need to have some downtime every now and then! Some players go out for beers, others go out to dinner, others prefer to tuck in to some junk food – some even do all three on a night out (I've seen that first hand!). You may have heard of the '80/20 rule' (that if you're good with your nutrition 80% of the time, you can be bad the remaining 20%).
I have my players subscribe to the 85/15 rule (I get them to give an extra 5%!). The players that I work with know that throughout the training week and following a game on a Saturday (including their nutritional recovery protocols and post-match recovery meal), they have to maintain excellent nutritional standards. After the match, they have their Saturday nights and Sunday mornings to do (nutritionally) what they like. The deal is that so long as by Sunday lunchtime they are back to high nutritional standards for training on Monday morning, we allow them the downtime!
In my experience, in a sport like rugby, no downtime = athletes becoming annoyed VERY quickly!
Do strategies always work first time around?
In short, not always (although if there is effective planning, they should do!).
I am a believer in the philosophy that nothing is ever perfect first time around. It takes a short amount of time and discussions between a performance nutritionist and the athlete to find a strategy that suits the athlete's routines without causing major disruption to their training schedule or home life. This is why in pretty much all sports, the 'pre-season' period is the ideal time to implement/try out new ideas as it won't affect performance during the season.
There are always little tweaks to be made to an athlete's nutritional strategy, which is why the nutrition support an athlete receives should ALWAYS be on-going.
Conclusion
Nutrition strategies are needed to maximise an athlete's performance. However, if wholesale changes end up upsetting an athlete then their 'buy in' to what you are helping them to achieve will be lost and ultimately this could result in a negative impact on performance.
I was at a Sports Nutrition Conference just before Christmas where Toni Minichiello (Jessica Ennis' Coach) paid tribute to her Performance Nutritionist. He spoke about how her nutritional strategies in the run up to London 2012 were so simple to implement that they caused no disruption to her training and home life yet maximised her performances (she didn't have a bad summer I suppose!).
That is essentially what it is all about: minimal disruption to achieve maximal performance!
As a performance nutritionist, I always look to find a happy balance – where the athlete is relatively happy with the strategy and I know it will optimise performance whilst maintaining their 'buy in' (I don't think I've ever seen Jess not smiling, so her nutrition is obviously working for her!).
Speaking from a rugby perspective, in recent years Saracens have probably been the most consistent team in the English top flight. That isn't a coincidence!
I believe one of the key reasons to their successes is that all of the players really 'buy in' to the philosophies that the backroom staff are implementing, including nutrition. Due to this 'buy in' they are now a prominent force both domestically and on the European stage (I am not saying that players at other clubs don't 'buy in' to philosophies at their respective clubs. I'm just using Saracens as the example as they have been the most consistent English team in my view).
In the build-up to the 2003 World Cup, the players in the England squad 'bought in' to everything that Sir Clive Woodward wanted to do, and the rest is history.
I hope my personal views, coupled with the above mentioned examples, have highlighted the importance of athlete/player 'buy in' when implementing any performance strategies, nutrition or otherwise.
As always, your thoughts and views are always welcome!
Chris
Twitter: @nutrition_total