This article aims to describe some of the nuts and bolts of Kids First Rugby ("KFR") and examine the reasons for the initiative having been put in place. The purpose of this is twofold: to make the issue more transparent for those of my readers outside England who will necessarily be unfamiliar with the detail of KFR (and yet who may well be familiar with a version of the same thing run by their own NGB), and to combat some of the misinformation – wilful and otherwise – that has managed to accrete to the debate since it began.
If you missed my previous introductory piece about Kids First Rugby, you can check it out here. In that previous piece, I stated three reasons why I am in favour of this approach To Age Grade rugby, and these three reasons relate in turn to the implications for a coach, for a parent, and last but not least, to the implications for a player.
In this article I'm going to discuss the ways that Kids First affects how an Age Grade coach will do his or her job, and how it will help them provide a great rugby experience for their players.
New Rules of Play
The most obvious starting point here is to talk about the New Rules of Play and the refinements they have brought. These have been well documented here on FRN and elsewhere, but to provide a brief summary would be helpful:
– Simplified game rules for the very youngest players, so they can focus on learning the basics of evasion, pursuit, support and handling;
– Reduced numbers of players on the pitch to allow more players to participate more fully in the game; and
– Step by step introduction of the contact and set piece phases of the game, so coaches can focus on embedding one skill set before the next one is introduced.
When I coached an U11 team under the old Continuum rules six years ago, we played 12-a-side with 5-man contested scrums, 4-man contested lineouts, a fully-contested breakdown and kicking, including kicks at goal after tries. Now coaching U11s under New Rules, we play 9-a-side on the same size pitch, 3-man scrums with a contested strike but no push, limited numbers at the breakdown and no goal kicking.
In terms of which is more satisfying to coach, there's no contest.
As a coaching team we can spend more time on each new skill area while at the same time reinforcing and enhancing what was learned previously.
So for example, last year at U10 we introduced the uncontested scrum. The emphasis was on ensuring correct body position and binding so that the front row is in a nice tight, low position with everything pointing forward. This year we have a contested strike, so there's more emphasis on the hooker supporting his weight to strike for the ball quickly and under pressure, meaning the props too have to ensure they are in a really strong stable position. However, that's the only change to the scrum. We don't have to worry about striking and pushing at the same time, and as that isn't happening the hookers have a nice stable platform from which to contest possession. It's a great example of introducing an additional skill without disrupting the development of the previous skill set.
Changes on Competition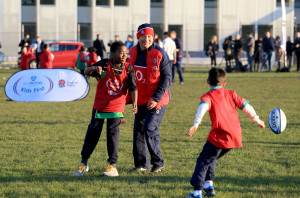 Another aspect of the Kids First approach, and one that found particular disfavour with Simon Halliday and his supporters, is the recommendations on competitive games and especially the shift from tournaments (which are all about finding a winner) to festivals (more of a celebration of rugby with the emphasis on learning through games).
One issue that caused real controversy was the advice to allow only mixed ability teams in festivals rather than A/B/C teams.
The 'anti' argument was that by mixing players in this way, you would have A team players from one club playing against C team players from another club and this wouldn't be right. Playing A teams against A teams is 'fairer'.
What this ignores of course is that in the mixed teams, both clubs would include some strong and some weaker players, so the argument above would cut both ways. Yet what those weaker players gain from the experience is the chance to see their more able team mates in action and to learn by emulation. They also naturally have to raise their game to try and match the level of the better players.
Those better players gain by being able to help and encourage their less able team mates, showing them good practice and setting the tone for the others to follow. The power of this peer-led development can't be overstated. It chimes well with my desire to coach the whole child, which means that I like to encourage the players to live the Core Values in their rugby. At the same time I can find opportunities to emphasise the 5Cs – competence, confidence, connection, creativity, character/caring – that are essential in creating the social bonds that help to form strong teams.
In short, while the change to New Rules has made it easier to coach from a technical standpoint by breaking a complex game into bite-size chunks, the change of ethos inherent in Kids First – whereby games become just another learning experience and the score isn't all that important – enables me as a coach to ensure everyone can demonstrate their value to the team.
The main point of course being that regardless of a player's skill level, he gets his chance to do what he's capable of and contribute to a team effort. And because while we play each game with the aim of winning it if possible, there's no trophy on offer or league points to be gained so if we don't win… then what, exactly?
In actual fact, a post-match analysis goes more along these lines: "You played a very exciting brand of rugby today, you were great to watch. The standard of passing was superb, especially the off-loading out of the tackle, and the way support runners attacked space at pace was excellent. Some of the tackling was a bit hesitant, but the players who attacked the breakdown with good body positions more than made up for that by continually turning over the ball. As a result you had a lot more possession and many more opportunities to score, of which you only missed out on two, which was fantastic to make so few errors. Put all that together and you can see why you won the game. If anyone's really interested the score was 35-5".
That sort of summary was always possible of course, but for many coaches the 35-5 scoreline would be enough. A win's a win after all.
The new approach actually encourages you to link performance of skills and application of teamwork to outcome on the scoreboard in a positive way, and the players' competitive instinct and desire to excel makes them hungry to make the improvements they need to make.
When you have the players in that frame of mind, coaching becomes a lot easier and more effective, and their development really takes off – and this is the biggest benefit Kids First offers an Age Grade coach.