It may seem strange to adopt a gladiatorial phrase to introduce an article on 6 Nations rugby union, however, COVID-19 has prevented the rugby family attending live rugby matches.
Although able to watch games across various TV platforms, the arena seems devoid of atmosphere without live crowds. The lack of atmosphere seeps through to the domestic living room.
The challenge for 6 Nations teams in 2021 is not only to win the competition but win it in a style that excites and entertains. The losing teams must also contribute to this because the product, Rugby Union, must win the mob.
Some supporters may have lost interest. New supporters need to be enthused. 6 Nations rugby must pass the pub test!
To a degree, there is a certain predictability about the 6 Nations.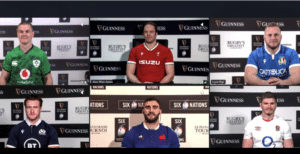 England (13), Wales (12) and France (9) have most Grand Slam wins. Scotland and Italy have the most wooden spoons.
Is it therefore realistic to suggest that for the first time in the competition's history, playing style is more important than outcome, crowds must be won back (not only the live crowds but also the TV ratings crowds)?
Coaches may not adhere to this premise. They will want to win with panache, but priority will first be given to winning the game in a style that best suits the ability of the players in the match day squad.
When preparing a team to participate in 6 Nations 2021 are there key issues that coaches and conditioners face?
Prioritising the workload will be crucial when considering player preparation. Some players will have played more games than others. Some have had periods of conditioning stopped or interrupted for COVID-19 reasons. Some matches have been cancelled.
Much consideration will be given to the big four preparation areas prior to and after selection…TECHNICAL- PHYSICAL- MENTAL-TACTICAL.
TECHNICAL
The 6 Nations is second only in global status to the World Cup. To play well under intense pressure, having had little game time, a player must be technically competent in the fundamentals of the game. He must also be the master of the skills of his chosen position. This will allow him to play within a structured framework or react to periods of free running and support play.
Some players will initiate play through instinctive performance, daring, unpredictability, be scintillating and rewarding. They have a place in the team.
PHYSICAL
The Strength and conditioner may have to work with players at different levels of fitness. He may ask…
• Are the players strong enough?
• Fast and working to be faster?
• Are they able to keep going?
Some will need more work than others, the repercussions huge if he gets it wrong! His measuring tools and staff will be honed to perfection. If a player breaks down in training, he can hardly be considered for selection. In the eyes of the coach those who start the game must be capable of finishing it.
MENTAL
Finally tuned concentration is needed to perform well at the highest level. Concentration can be affected by a lack of match practice. Does the player:
• Know and recognise his own game.
• His teammate's game.
• The team's game.
The coach will be monitoring the quality of individual performance in game scenario and team runs prior to selection. Are all the players on the edge of their talent prior to selection. Composure under pressure can be a trait of experience or of no concern to a young player loaded with skill.
TACTICAL
The head coach will formulate the strategy and balance of the team. There may have been consultation. Most top-level coaches have eyes like eagles. They see little bits from great distances. Never assume they are, off the program.
He will mix the cocktail and trust the players like the taste.
He may ask…
• Does my team pass accurately?
• Have pace?
• Have good tacklers?
• Have good kickers?
Is my team…
• Going forward to attack?
• Going forward to defend?
• Supporting the ball carrier?
• Does my team have an X factor?
TO CREATE A 6 NATIONS INTEREST FRENZY SCOTLAND NEED TO BEAT ENGLAND AT TWICKENHAM IN ROUND ONE.
STATE OF THE NATIONS
England
Still some doubt regarding their flexibility in attack. The extra time win over a hugely weakened French team recently highlighted this issue…at Twickenham?
However, they have depth in both the backs and forwards. With George ford kicking at over 80% is Farrell at 12 the ideal choice? He's a passer not a runner. They probably have two scrums of equal standing and that is their X factor platform. England have 3 games at fortress Twickenham.
England will start tournament favourites.
France
The momentum nation. World cup venue in 2023. Successful U20's players transitioning well into the senior squad, as evidenced in the recent extra time loss to England. Signs of a shift towards a playing freedom and style of yesteryear. Edwards will add some steel to their tackling and defence. France have two games in Paris.
Crunch game against England at Twickenham in round 4.
Wales
Once it was flair and creativity, now it's kick chase and tackle. Can Wales re-invent themselves. Can they finish phase play attack without kicking the ball? Alan Wyn Jones will lead from the front but for how much longer. The young Welsh backs will need lots of front football. Can the forwards provide it? Wales have only two games in Cardiff.
Crunch game v England in round 3 in Cardiff.
Ireland
Will be boosted by the appointment of Paul O'Connell as forwards coach. O'Connell has over 100 caps and will bring knowledge, specificity and intensity to the role and tick all the preparation boxes. Overseas players with eligibility for Ireland will continue to ruffle the feathers of opposing coaches, with Gibson-Park (NZ) arguably the best half back in Ireland. With only two games in Dublin, the round two fixture against France in Dublin looms as a must win!
Scotland
They have the coach who is a disciple of support play but often they flatter to deceive. With 3 games in Edinburgh, they can win the title if they beat England at Twickenham in round one. In fly-half Finn Russell, arguably the best fly half in the N Hemisphere, they have the on-field inspiration. 3 games at home will help but a round one win is vital.
Scotland never lack passion, it's historical when playing England.
Italy
Open the 6 Nations with games against France in Rome and England at Twickenham in rounds one and two. A win against either would be a shock and one fears the round 5 game in Edinburgh may decide again the wooden spoon. On the plus side Pro-14 club rugby and junior playing standards continue to improve. There is also an Italian coach on the horizon.
Italy have 3 games in Rome.
Forecast
There will be many dramatic headlines throughout the tournament. Maybe Scotland stun England, Ireland shock France or England demolish Wales in Cardiff!
I think the final round 5 fixtures – Ireland v England and France v Wales will decide the tournament. Ireland to beat England and France to beat Wales, ensuring France are crowned 6 Nations champions at the Stade de France on Saturday March 20th around 9-30pm.
Bring on the action!
Check out Mike's website – www.rugbycoachingconsultancy.com.