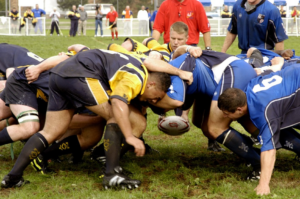 We don't often cover Rugby League on FindRugbyNow, but the National Rugby League (NRL) is one of Australia's most followed sports events, broadcasted through major television stations and streaming platforms in the region. The league was founded 25 years ago, in 1998. It is composed of 16 teams from Australia and one team from New Zealand.
With a long history of actions in the field, many legendary rugby players were featured in the league. Let's get to know five iconic players and their legacy in the league.
Jonathan Thurston
Born in Brisbane, Johnathan Thurston was a halfback who played for North Queensland Cowboys from 2005 to 2018 and Canterbury Bulldogs from 2002 to 2004, which was the team he debuted in. Thurston also played for the Queensland Rugby League Team (2005-2017), Australia National Rugby League Team (2006-2017), Prime Minister's XIII (2009), and Indigenous All Stars (2010-2017).
Moreover, Thurston was awarded the Most North Queensland Cowboys Player of the Year Awards in 2005, 2012, 2014, and 2015. He also held the Most Career Goals (101) and Points (224) record in State of Origin from 2005 to 2017, making him a consistent topic in rugby sports betting forums in Australia.
His most significant recognition was when he became a Member of the Order of Australia during the Queen's Birthday Honours in 2019. He was given the honour for his remarkable service to rugby league.
Cameron Smith
Cameron Smith played as a hooker in the NRL for 19 years. He debuted with the Melbourne Storm based in Melbourne, Australia, and remained loyal to the club from 2002 to his retirement in 2020. Smith also played for the Queensland Rugby League Team from 2003 to 2017, Australian National Rugby League Team from 2006 to 2017, and NRL All-Stars Team from 2010 to 2016.
With his almost a decade of playing, Smith has collected highly-coveted awards like NRL's Dally M Hooker of the Year. In 2007 and 2017, Smith was also awarded the Golden Boot Award as the International Player.
Smith was the only player in the NRL to have played over 400 matches, making him the league's record holder, having played in 430 games in his entire career. Moreover, Smith was the highest all-time points scorer in the league's history. He holds the record for most goals kicked with 1295, most grand final points scored with 44, most tackles made with 16917, and most wins with 310.
Andrew Johns
Born in Cessnock, New South Wales, Andre Johns became one of the most legendary halfbacks in the history of NRL. The former professional rugby player was a former team captain of the Newcastle Knights and played for the team when it earned only two premiership victories in 1997 and 2001. Only four players have been awarded the prestigious Golden Boot Award more than once, and Johns is one of them.
In addition, John received the Dally M Medal for best player three times. He earned 2,176 points in his Australian first-grade premiership, making him the highest scorer. In 2012, John was honoured as one of the nation's greatest rugby players ever after being named the eighth "Immortal."
Darren Lockyer
Darren James Lockyer was a fullback who played most of his career for the Brisbane Broncos. Lockyer was born in Brisbane and showed great interest in the sport at age four. His father was an Australian football player and was the one who introduced the sport to him.
Lockyer debuted with the Brisbane Broncos and stayed there from 1995 to 2011. In his career with Brisbane Broncos, he won three grand finals. Lockyer also played for the Australian National Rugby League Team and won one World Cup for his country. He was also a notable recipient of the Golden Boot Award.
Billy Slater
Queensland Maroons coach Billy Slater was a former fullback of the Melbourne Storm based in Victoria, Melbourne. Slater started playing for the NRL team from 2003 to 2018. He played for seven NRL Grand Finals with the club and won them. Billy is known for setting the league record for most ever tries by a fullback. He also holds the club's record for most ever tries.
While playing for the Melbourne Storm, Slater earned 190 NRL tries, the second most in an Australian first-grade career. He was also awarded the Dally M Medal with his team. He boosted his career by playing for the Australian National Rugby League Team, the 2008 Golden Boot Award as the World Player of the Year, and the 2008 World Cup's top try-scorer and player.
Final Thoughts
The professional rugby player we included in our list came from different backgrounds and experiences. But they share the same trait as NRL's most celebrated players—all of them are dedicated and passionate. They didn't just make a name for themselves. They have also secured NRL's place in Australian sports history, making it one of the most prestigious leagues in the region.