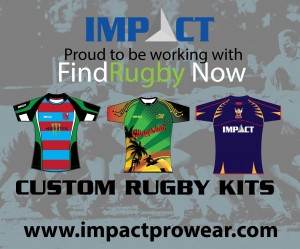 In an effort to support rugby 7s growth, Find Rugby Now teamed up with Impact Prowear to offer one lucky men's and one lucky women's team the opportunity to win a free set of rugby 7s kit!
There was a great response from both men's and women's team alike at the prospect of winning a free set of bespoke rugby 7s kit and there were many deserving winners.
Applicants needed to answer one simple question:
Why does your rugby team deserve to win a free set of kit?
When choosing our winners, we really had to choose a team for whom this kit competition would make the world of difference. We had to make some very difficult choices as all of our short listed candidates were extremely worthy! Thank you to everyone that applied. We were really impressed by all of the applications that we received and we are proud to announce our winning teams:
MEN'S WINNER: BURGESS HILL
"As well as a successful Community Rugby Project in all the local schools, the Club is aiming to grow it's Community Links with a Charity Sevens team. This Sevens team will raise money for a new charity each year…This season we have chosen to launch this idea with Breakthrough Breast Cancer and aim to have a kit launch night, as well as other fundraising ideas. Each player who plays for the Sevens team will raise money at tournaments and events, part of the deal of playing. The whole idea is based on sponsors, but having had two major sponsors behind the idea drop out at the last-minute, has put the Sevens team in jeopardy." – Burgess Hill
WOMEN'S WINNER: MALIBU BARBIES
"I think really I would just like to reiterate how much of a huge difference this would make to us. We were dumped by a sponsor leaving us very little time to organise a new one and no kit tower as the 15s club few of us play for would not lend us any kit. We are dedicated to women's rugby and so have been saving, trying to fundraiser and have bought t-shirts from our own pocket to enable us to still play. I know that doesn't sound like much but a couple of our ladies are single mums so it is a lot of money to them." – Malibu Barbies
Congratulations to our winners! They are truly deserving of a new set of rugby 7s kit!