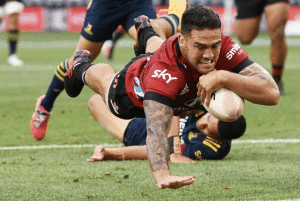 The 2021 Super Rugby Aotearoa season (branded as Sky Super Rugby Aotearoa for sponsorship reasons) was a professional club rugby union tournament organised by New Zealand Rugby featuring the 5 New Zealand Super Rugby sides.
This article analyses the takeaways from the opening game where the Highlanders faced the Crusaders in a match which was a connoisseur's and coaches delight!
For watching players, spectators and coaches, this match had everything. At times it was a coaching manual played at pace, showcasing:
• Instant action and intensity
• Quickly won ball at the breakdown. (second man in support of attacker)
• A willingness to move the ball
• Accurate passing and catching
• Quickness and speed
• Correct alignment and re-alignment
• Team mobility and player awareness
Early in the first half, Codey Taylor (Crusaders hooker) ran a sweeping under's line to receive a short perfectly weighted pass from Sam Whitelock (Crusaders second row), in midfield. He accelerated through a tight gap and sprinted 40 meters to score under the posts. If the world's best backs had executed this play the accolades would be loud and long.
Always stress to your young players the importance of being a rugby player first and a positional player second.
Young players spend so much time in front of screens now be it at school or at home that maybe it's time for the coach to text, yes text, aspects of play out to his charges. The one I mention above would be a good example.
When I think back to when I was a lad, seeing something done brilliantly live has stuck with me for the rest of my life.
If we are to influence young players and the youth of tomorrow, they must be inspired by what they see.
Most coaches will tell you that when you get your players together to talk to them before or during training, you will be lucky if half are listening. Sure, they hear you but aren't listening.
Create situations at training where players can express themselves.
Using over-load games, 9 v 5 12 v 8, etc. with carefully thought through conditions will allow the players to explore the games and scenarios.
For example, one I used to use at Leicester was 9 v 5 in one half of the field played between the two 15-meter lines (resulting in restricted width). From half-way to try line. You can apply a host of conditions and alter the numbers but don't allow any mistakes. See how many tries an attacking side can score before they make a mistake. Start the game by punting or drop kicking the ball out from the goal line. Alter the intensity by adding a defender or removing an attacker.
In this 2021 Super Rugby Aotearoa match there was no drop-off in intensity or quality of performance as the game entered the 80th minute. TEAM MOBILITY AND TECHNICAL COMPETENCY THROUGHOUT. This is what we should try to imitate and emulate at all rugby levels.