Find Rugby Now ("FRN") is pleased to announce its 2022 Coaches, Management and Medical Team for its Women's Academy, Women's Elite and Men's Rugby 7s Teams.
This year marks the 10th anniversary of the FRN Men's 7s Team, which was started in 2012. The Women's 7s Team was founded one year later. Both compete regularly on the sevens circuit in England and travel to play on the biggest rugby 7s stages around the world.
The teams have been going from strength to strength and the new Coaching, Management and Medical Team has added a new level of professionalism to the set-up.
"We are excited to be getting on board such experienced individuals that fit our club motto – 'great people, great rugby', said Ellaine Gelman, FRN Director of Rugby. "
Director of Rugby: Ellaine Gelman
Ellaine started her playing career in the US going on to captain her university side at George Washington University Rugby Club. Her love for rugby was further developed during her studies at Oxford University where she received four Blues representing the University and served as club president.
Upon graduation and relocation to London Ellaine started the first ever College of Law Rugby Women's Rugby Team whilst playing for Wasps. After qualifying as a lawyer, Ellaine went on to play for a number of London based teams whilst founding Find Rugby Now. She now is a big fan of Mixed Tag Rugby and plays in several different leagues while making the odd appearance on the 7s pitch.
Ellaine co-wrote a book, "Introduction to Youth Rugby: The Complete Guide for Coaches and Parents". She runs FRN, FRN 7s Teams and is the Tournament Organiser for the London International 7s Tournament. She is a qualified lawyer working as Senior Legal Counsel for one of the largest media companies in the world. She is also on the board of the Varsity Matches Company serving as Broadcasting and Media Director and on the Committee of the Oxford University Rugby Club.
Coaching Team
Head Coach & Men's Lead: Owen Jones
Owen is an experienced 7's & XV's coach, currently holding positions with the Norway Men's 7's squad and Brighton Blues. His coaching ethos is built on a foundation of player development, and the firm belief that rugby is more than just a game.
Owen has coached all around the world, from Fiji to New Zealand, the USA to Malaysia, and across all levels of the game. His international exposure has been key in building his understanding of rugby strategy.
Owen has a special focus on mental skills coaching in elite sport (NCFE lvl 3), and uses this knowledge to help create successful and player focussed team cultures.
Women's Academy Lead: Lee Irvine
Lee is a WRU Level 3 coach with 15 years of coaching men's, women's and school boy rugby Sevens and Fifteens rugby.
Lee started his coaching journey with Neath Schoolboys before becoming assistant coach with the Welsh Schools U16s. He then moved to the Ospreys where he coached the U18s Academy and Women's squads.
More recently, he has coached the Independent School Lambs XV, Bedford Blues Academy U19s and both the men's and women's senior teams at London Welsh. Lee also continues his work with the Scottish Exiles U18 programme.
His day to day job is Director of Sport at a large London Day School for pupils aged 3 to 18.
Women's Elite Lead: Justin Loveridge
Justin currently serves as the Head of Rugby at St Dunstans College in London and is in the process of obtaining his Level 4 Performance Coaching Award.
Previously he has served as Academy Manager at Super 6 Club Boroughmuir Bears in Edinburgh and was Head of Programme & Head Coach for DMP Sharks for three years where he led the team to its highest Tyrell's premiership finish.
Justin also served as DPP Head coach and Rugby Development Officer at Leicester Tigers Rugby Club for 7 years.
He has a plethora of rugby 7s specific coaching experience including coaching Bury St. Edmunds Rugby Club on the 7s circuit against international teams and UK teams playing rugby 7s at the highest level.
Skills Coach: Jack Roberts
Jack is an RFU level 3 coach, current rugby performance coach and head of the Sport Scholars program at Eastbourne College.
Previous roles include serving as a senior skills coach at Brighton Blues and assistant skills coach for U20s and men's/women's 7s at the Samoan Rugby Union. Jack was also a utility coach for Wellington Lions U20s/Hurricanes U20s.
He has had age grade experience from introduction to rugby (mini rippers/tiny tots) to youth aspirational (county/district/national cup wins) through to senior representative and participation (grassroot club/county/club/national honours).
"I've always loved playing the game ever since I was a kid. My coaching career began when I helped out my younger brother's age group from the age of 13. I've been blessed and privileged ever since then to be able to have my every day hobby become my 'job'. No need to sleep when you're living the dream," Jack said.
Management Team
Head Manager: Anita "Finny" Velinova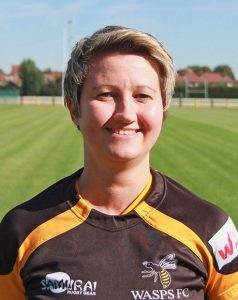 Anita, otherwise known as Finny, has been involved with rugby for over 20 years having started her rugby playing career at university. She spent the majority of her playing career at the premiership club Wasps.
Finny also spent 8 years playing for Finland 7s and 15s. She has a passion for the game and for the past six years she has worked on the management side of rugby as the team manager for Wasps Women and also as part of the team management setup for the Barbarians Women.
From a corporate career perspective, Finny works as a Partnerships Director for the Nordics in a major US based tech company; experience spanning over 14 years in channel strategy, management and execution across EMEA for various tech organisations.
Manager: Sylvia "Chani" Chan
Sylvia, otherwise known as Chani, played rugby 7s and 15s for 11 years for Lichfield, Bristol Bears and Gloucester Hartpury. She also represented West Midlands winning two County Championships with them. Chani also played on the other side of of the code, playing rugby league for 5 years for Nottingham Outlaws. She has also dabbled in coaching as an under 7s coach.
She is affectionately down as the team's "International Liaison Officer" due to her friendly personality and her love for making friends from all over the world. She loves to travel and has played in rugby tournaments globally including in Israel, Italy, Ireland, Sweden, Wales, Canada, Malta, Dubai, Portugal and New Zealand. Her first cap for FRN was in 2014 and she retired from rugby in 2017.
Chani is as a global employment lawyer for a US company.
Manager: Laura Ash
Laura currently works at England Rugby and heads up the newly founded Girl's Youth Section over at Richmond FC. She has been involved in rugby for over 15 years.
Although she is out out of action on the playing front, she still lives and breathes the sport!
"I am very excited to take on this new opportunity- working with an amazing team of players, coaches and managers and giving back to the game that's given me so much over the years," Laura said.
We are thrilled to have three very capable managers on board this season and we have already reaped the rewards from their organisation and skill over the past tournaments this season.
Medical Team
Head of Medical: Gabriella Weston
Gabriella has been a qualified sports physiotherapist for the past 7 years now working with a range of different clubs across the south of England.
Her previous physio positions started with the men's Canterbury RFC when they were competing in National 1's and Beckenham RFC in National 2's league.
She currently serves as the Head Physiotherapist for the women's Championship team Hove WRFC.
Gabriella is often assisted at tournaments by a plethora of capable doctors and surgeons that play for our men's team.
Want to Join Us?
If you are interested in joining FRN 7s as a player, please come down to our next open trials.
Email us at sevens@findrugbynow.com for more information. We are always looking for talented individuals to join our team.